We are excited to announce the latest updates to Android File Host! This is one of our biggest updates to date, including new free features for everyone as well as new premium memberships that provide some awesome new features to enhance your experience with the site. We felt the number of changes and new features in this release warranted a new version number so we are calling this Android File Host 4.0.
Thanks!
Before we get into the new features, we wanted to take a moment to thank all of our users for supporting us and helping us to grow over the years. We have come so far in the past four years, and we have all of you to thank for that. Four years ago, we started off with a goal to provide the best hosting solution for Android developers: to provide devs a free and reliable place to host their work and users a place to download these files at the fastest speeds possible. Coming from 1 mirror with less then 1TB of total bandwidth when we started, to the 12 mirrors with a combined total bandwidth of over 3000TB today, we feel we have done pretty well at meeting that goal. We are averaging over 10 million page views per month, which works out to roughly 4 per second. Those stats speak volumes for how much you all support us, and we can't thank you enough for that. We are continuing to grow every day, and will be adding several new servers in Georgia, Washington, and other locations in the near future to provide even more options for you. Now on to the new features!
New Features
We are excited to announce our new premium memberships which have been in the works for some time now. These premium plans will provide a variety of new features to help make your overall AFH experience even better. While the premium memberships and their features are a big part of this update, we are also rolling out a few new features that are free for all of our users. All of the new features are detailed below.
New Free Features
For devs, we have added the following free features:
Access to 3 Upload Servers Around the World (USA, Canada, and Europe): We have added additional upload servers around the world, and you can now select a server when uploading a file to the site. This will provide faster upload speeds by allowing you to upload to a server that is closer to your location.
Import Files from URL: You now have the ability to import a file to the site directly from a URL. This can be used to import a file from another site or even directly from a buildbox, without having to download the file first and then re-upload it to AFH.
New Premium Features
Our premium memberships are split into two plans: Premium Users and Premium Devs. Both plans are detailed below.
Premium Users
The Premium Users plan is geared towards the general users of the site (non-devs), and provides features to help improve your downloading experience. The features included are as follows:
No Wait Time to Download: Download files immediately, you no longer have to wait before downloading.
No Advertisements: Enjoy an ad free experience on the site
Ability to Set a Preferred Download Mirror: Set the closest/fastest mirror for you in your settings, and this mirror will be automatically selected whenever you download a file (as long as it is available for that file).
Auto Start Downloads: Enable this option in your settings, and downloads will be automatically started from your preferred download mirror. You no longer need to click the "Begin Download" button, wait for mirrors to load, and then select a mirror. All of this is handled automatically for you.
(Coming Soon) Send a File Directly to Your Dropbox or Google Drive: We are still putting the finishing touches on this feature, which will allow you to send a file directly to your Dropbox or Google Drive account to access later at your convenience.
More Features Coming Soon!
Premium Devs
The Premium Devs plan is for devs, and provides features to help improve both your uploading and downloading experience. The features included are as follows:
Includes All Features of Premium Users: Even though you are devs, we know you likely still download files from AFH in addition to your uploading. So we include all of the Premium Users features listed above in this plan, along with the additional features just for devs below.
Access to ALL Upload Servers Around the World: While all devs get access to 3 upload servers (one each in USA, Canada, and Europe), Premium Devs will have access to ALL upload servers. We currently have 6 upload servers available: two in Canada, and one each in Texas, Florida, California, and Germany. We will continue to add additional upload servers in the coming weeks, with a goal of having every download mirror also available as an upload server. The wide variety of locations to upload to will provide even faster speeds to upload your files.
Ability to Set a Preferred Upload Server: With the addition of multiple upload servers, we now randomly select an upload server for you when uploading a file. This feature, however, allows you to set a preferred upload server, which be be automatically selected for you every time you upload a file.
Set Custom URLs for Files and Folders: You can now set custom URLs for any of your uploaded files or folders. This allows you to create a more user friendly and easy to remember URL for your users. Custom URLs can also be used to create a static link for the latest version of your ROM/Theme/etc. You can simply move your custom URL to the new version of the file, and then you won't have to update any of your posts on various forums, etc. Currently the URLs use the normal domain (androidfilehost.com), however we plan to add the ability to use our short domain (afh.co) in the near future.
Auto Import of FTP Uploads: By uploading your files to a special folder in your FTP account, you can have them automatically imported into AFH. You no longer have to go on the site after uploading something to FTP, just to import that file. We will be posting a detailed explanation of how this works in the coming days so stay tuned, however you will notice that there is now an "ftp path" listed for every folder in your file manager on AFH. This is the path you need to upload a file to via FTP in order to have it automatically imported into that folder.
Import From Dropbox (Google Drive Coming Soon): No need to download files first, you can upload directly to AFH from your Dropbox (and Google Drive as well in the near future).
Send Email Notifications to Followers When Uploading New Files: You now have the option to send an email to your followers when uploading a new file. The email will contain basic information about the file(s) you uploaded (Name, URL), as well as any custom comments you wish to enter.
Post Notifications to Twitter When Uploading New Files: You now have the option to post a notification to your Twitter when uploading a new file. This is a quick way to let your Twitter followers know that you have uploaded something new they might be interested in.
More Features Coming Soon!
Pricing
Both the Premium Users and Premium Devs memberships will be available as a monthly or a yearly subscription plan. With yearly subscriptions, you get two months free (12 months for the price of 10). The Devs plan is priced slightly higher than the Users plan, due to the significant number of additional features provided with the Devs plan.
Premium Users: $1.99/month or $19.99/year
Premium Devs: $3.99/month or $39.99/year
While these prices may increase in the future as we add more features, we will never increase the price for our current subscribers. As long as you don't cancel your membership, you will continue to pay the same price you signed up at and still receive any new features we add in the future.
Please note, you must be approved as a dev on AFH in order to sign up for the Premium Devs membership. If you are not yet registered as a dev, you can request developer status by going to your settings on the site, or clicking this link: https://androidfilehost.com/user/?w=settings-user-dev-request
AFH Shirt Giveaway
The first 50 people to sign up for a premium membership (either user or dev) using the coupon code FREESHIRT will receive a free AFH t-shirt, as pictured below. You MUST use the coupon code or you will NOT be eligible for the free shirt. We will contact you within 2 weeks after signing up to get your shipping information.
Click here to sign up for a premium membership today!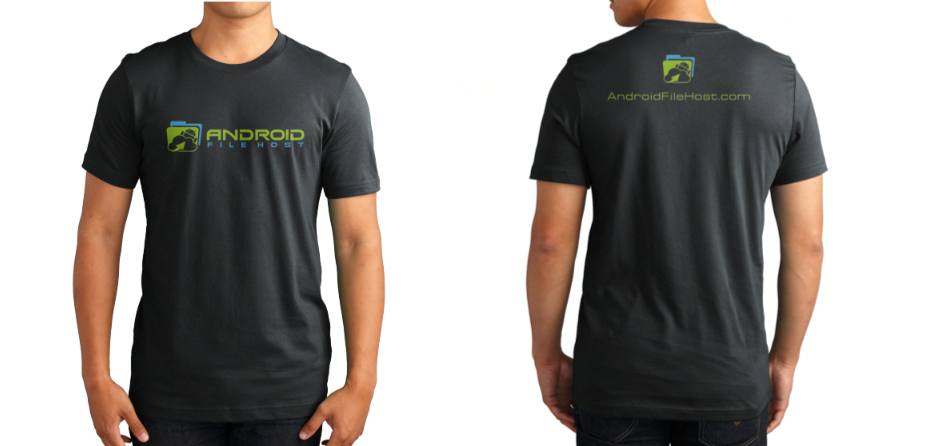 Thanks again for all of your support and we hope you enjoy the new features!